Economic Development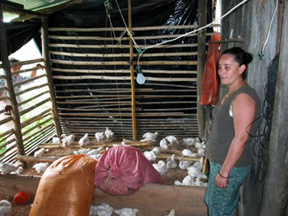 Often, there is no alternative to poverty in Nicaragua. The unemployment rate in the rural areas is more than 85% and the average annual salary is about $600. There simply are no jobs.
In the past, Tin Roof supporters have participated in projects such as micro business loans that helped develop self-sufficiency among Nicaraguans. Although no new banks are being established at this time, existing banks are still in operation. The loans are used for many worthwhile small business ventures such as a poultry mini-farm, a pine-needle basket-making business, a neighborhood produce stand, a jewelry co-op, or reselling food staples at a pulperia (mom-and-pop store) that were purchased at the city market.
Defaults are few. As the loans are repaid, the money is used to fund new mini-businesses within the community.